Artillery is Looking for
Oversea Dealer/Reseller Cooperation

Shenzhen Yuntuchuangzhi Technology Co., Ltd, former well-known 3D printer accessories supplier in China, has been supplying parts to China's major 3D printer manufacturers for years. With years of experience, teaming up with skillful domestic and foreign engineers, entered the 3D printer R&D area in 2018.

As the brand owner of Artillery, Yuntuchuangzhi is dedicated in developing intelligent, high-efficiency FDM 3D printers. In January 2019, their debut FDM 3D printer, Artillery Sidewinder X1 enters the market. With the sturdy design and clean cable management, Sidewinder X1 was broadly endorsed by the foreign makers, educational institutes and general home users, and their customer services team is widely approved by the customers.

With extensive testing and high QC requirements, Artillery's quality is greatly approved by the community and receive a lot of positive feedbacks. Review videos on YouTube has been watched by over 2.5 million times. Together with the reasonable price range, Artillery ranked among the top-ten leading brand on most shopping platform in just one-year time.

Now, Artillery is looking for partners from all around the world to spread the joy of 3D printing, we welcome you to be one of our Dealers/Resellers in your country or area. We will provide authorized certification and do our best to support you in marketing.

With your partnership together, we will fulfill the promise of making the best 3D printer with high performance, and offering the best service to everyone in everywhere.
What can Artillery serves you?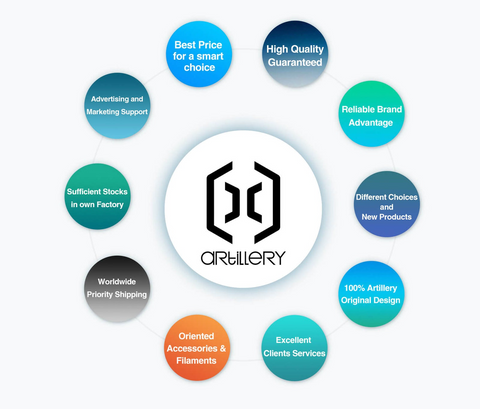 What do we expect from you?
1.  3D printing business experiences and marketing networks are required.
2.  Corporate with Artillery to service your native clients and customers.
3.  Devote resources to keep business growth,Manage the marketing issues of Product,Price,Place,Promotion,
E-commercial,Customer,Competitor,After-service and so on.
4.  Follow the business contract agreement,keep the price and brand be reliable.
5.  Collect feedback and better advices from customers to improve your local business and Artillery brand.
How to be a oversea native
Dealer/Distributor/Reseller of Artillery?